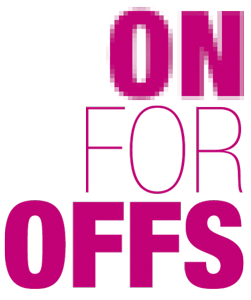 ON FOR OFFS – The Guide for the Future is the training and transformation plan I developed for McCANN WORLDGROUP Spain.
The goal
Train all employees in the discipline of digital marketing, strategy, design and technical development in order to give the best service possible to the companies clients with the growing and changing digital landscape.
Results
Over the period of 5 years, 2007-2012, I was the responsible learning manager in Spain and planned, designed & executed this both cultural and corporate transformation. Due to its success and strategic knowledge captured in the book, it was requested by learning officers around the globe and adapted by them locally. During this time more than 400 employees in Spain were trained.
Pages packed with digital topics
For digital beginners & natives
I conceptualized, wrote and designed the book "ON FOR OFFS" leading the internal process of peer learning.
Within its almost 400 pages, the book contains a wide range of online-related topics both for beginners and advanced readers to understand this new environment our consumers live and communicate within.
The contents are especially designed to suit the necessities of both advertising and marketing agencies when creating campaigns within focus on digital media and channels.
Overview of the contents & activities developed over 5 years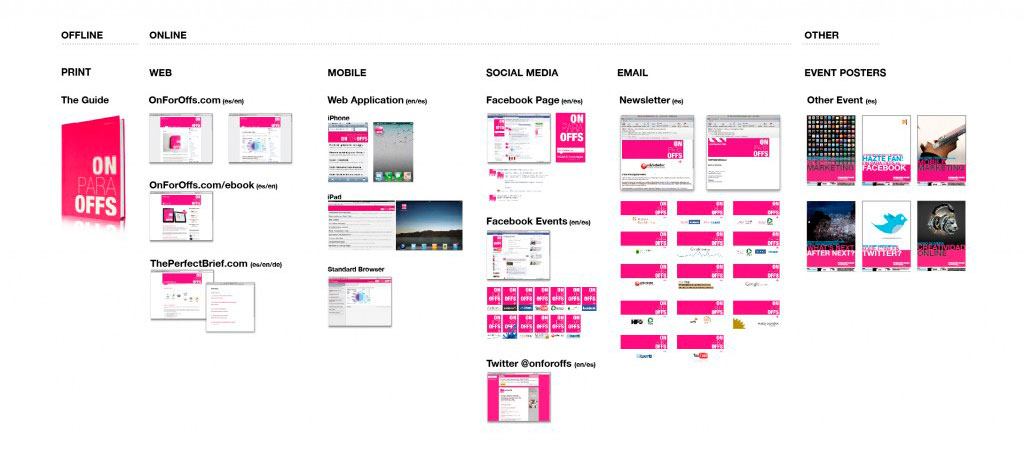 Be ON my friend!
– Claim of the training initiative –
Becoming a part of the free, digital culture
Between 2008 and 2012 I continuously updated the book converting it into an eBook, free to download, used Social Media Channels to update the community and to invite for talks and sessions with invited guests and companies, such as Google, YouTube, Facebook, tuenti, Nielsen BuzzMetrics and Synthesio amongst others.
The eBook was created in with the standard electronic publishing format ePub, making it available for iPad, Amazon Kindle, Smartphones and any other eBook Reader available on the market.
Martin's considerable talents go beyond his extensive knowledge of the digital landscape. In my experience from having worked with him in corporate training, I have seen how he has consistently and enthusiastically combined his expertise, his collaborative commitment, and his ability to organize, adapt and communicate his knowledge. He is a true change catalyst.

Stewart Alter, WW Director of Employee Learning McCANN WORLDGROUP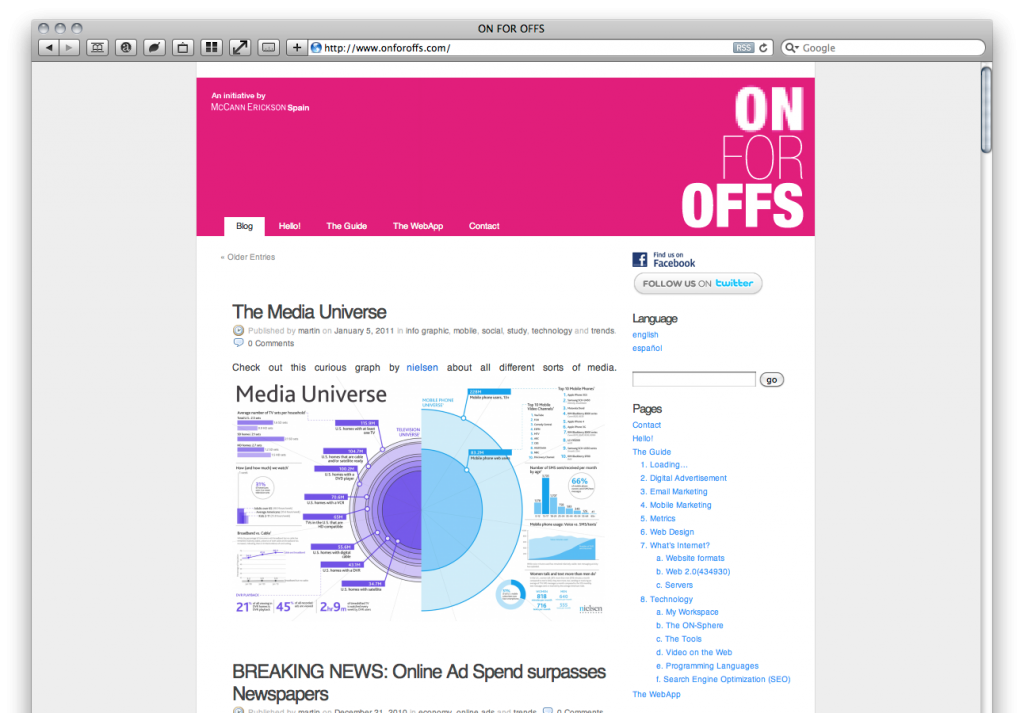 Blog & WebApp for continuous updates
The English and Spanish Blog www.onforoffs.com (not active anymore) accompanied the ongoing training sessions with multimedia contents, tutorials and updates.
Besides that, I also developed a Web Application for mobile devices, giving the user a quick access to recent posts and contents on the Blog.